Golden Pebble Beach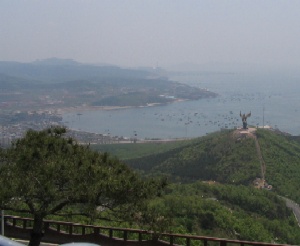 This weekend a few of from the office (about 400) went to a resort outside of Dalian called Golden Pebble Beach. First stop was the Hunting Lodge. I don't think anyone does any hunting up there, but they had a small rifle/pistol range and skeet shooting range where you can do a little bit of shooting. I did a some skeet shooting, but didn't do too well at it. I was hoping to do a little pistol shooting, but we were schedule to play paintball, so they divided us up into small teams of about 15 or 16 and sent us out to play some paintball. We only got 10 rounds, so we just played a very short battle. It was pretty fun. I got to shoot all of my paintballs at the other team, and then I got shot in the foot by someone (not sure if it was enemy or friendly fire). I have no idea if I hit anyone on the other team. After the game everyone kept asking me if I had ever been in the military and if I owned a firearm. They were kind of surprised that I owned more than one. I don't think you are allowed to own a firearm here.
By the end of paintball it started raining pretty hard, so golf and hiking were cancelled, and instead we went to a wax museum and a rock museum there at the resort. That wasn't that fun, but it kept us out of the rain. We had a long lunch after that and then went and checked into our hotel and just relaxed until dinner. Dinner was at the same place we had lunch, and was a lot of fun. Lots of food and beer. We did a lot of toasting and got... uh, toasted. Hehe. After dinner we went to some place to party and play games. Maejong and cards downstairs, dancing and kareoke upstairs, beer everywhere. I played one game of Maejong and was beat pretty bad. A few of the ladies dragged me upstairs for dancing, and everyone had a good time. Most of the time I spent talking to co-workers... they wanted to practice their english and I got to practice my chinese some.
Sunday morning the rain was gone, and we were off to some mountain nearby that had a great view of the city and the sea. It was nice to be out of the city and have some nice weather. After doing the scenic view thing we got back into our buses and headed back to Dalian. After I got back I called a friend of mine who had invited me to a cookout/birthday party and she came by and picked me up. We ran by the Walmart to pick up a bunch of food and then she told me where we were going... Golden Pebble Beach! Oh well, I didn't mind all of the travelling. I got to get out of the city twice in one weekend!
The party was a very enjoyable, laid back, beach party with a little grill, lots of food and a few of Maggie's friends. So we laid about, ate, and talked. After awhile the wind started to pick up and it was getting chilly, so we decided to pack up everything and head back to a little pub near where we live called The Box, in Dalian. The Box is pretty nice. The decor is a mix of chinese and american jazz decorations. We played some foozball (sp?) and some pool. Then everyone wanted me to teach them how to play blackjack. I must of taught them well since I hardly ever won a hand. When it started to get pretty late I had to take off and check for calls and email. Oh well, all in all it was a very enjoyable weekend.